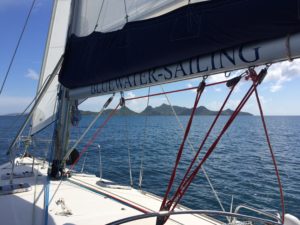 If you decide to up anchor from the UK and head abroad with your sailing boat, there is important paperwork that you must have prepared and on board with you. If you do not carry the correct paperwork when boating abroad then you may be liable to heavy fines or your boat being impounded by officials.
The paperwork that you are required to carry when sailing from the UK to another country can be categorised into two types: paperwork for the boat and paperwork for the crew that you are carrying.  Below we list the main requirements and documentation for sailing abroad.
Required Paperwork For The Boat
1. Registration Document
Make sure you have the original copy as photocopies are not accepted by many countries. It may be helpful to also have the Bill of Sale on board as additional evidence that you own the vessel.
If you are not the owner of the boat, some countries require you to have an authorisation letter as the skipper to show you are not illegally on board.
2. Ship Radio Licence
The International Radio Regulations state that all transmitting stations must have a license.  Marine radio equipment, such as a VHF Marine Radio, must be covered by your Ship Radio Licence and should be operated by a holder of a maritime radio operator certificate.
3. Boat Insurance
Many countries, especially in Europe, will now ask for proof of insurance for your vessel. Be aware that some countries specify a minimum level of cover. You should carry this document written in English and translated into the language of the country you are visiting.
4. Evidence of the Union Status of the Boat
On a UK registered vessel sailing within the EU, the right to freedom of movement is a basic principal of the European Union. This applies to goods made and supplied within the EU and also to goods which have been imported and then released.
Boats which have the customs status of Union goods may move, without being subject to a customs procedure, from one point to another within the customs territory of the Union. In order for a boat to have the customs status of Union goods VAT must be accounted for and if the boat has been imported any applicable customs duty must also have been paid. The owner is then able to move the boat freely through the EU. – rya.org.uk
5. Evidence of RCD Compliance or Exemption
Recreational watercraft that have been built since 16th June 1998, may only be placed on the market or put into service within the European Union and the European Economic Area if the vessel meets the essential requirements written by the Recreational Craft Directive. A Builder's Plate must be affixed to all RCD compliant craft. If your vessel is exempt, then you need to carry documentary evidence, such as a Bill of sale.
6. Ships Log
Whilst not a legal requirement, it is good practice to keep a ships log. Foreign officials do sometimes ask to see the ships log with the paperwork.
Required Paperwork For The Skipper & Crew
1. Evidence of Competence
If your UK sailing boat carries less than 12 passengers, is less than 24m in length (or under 80GTA), it is exempt from the Merchant Shipping Manning Regulations. This means you are not legally required as a skipper to have a certificate of competence or sailing license. However, we always advise taking training before skippering a sailing boat!
If you are sailing abroad then many countries do require you to show proof of competence. Each country varies in what is required so check before your voyage based on the countries you may visit. Carry all the certificates that you have attained and check whether you need an International Certificate of Competence (ICC).
2. Maritime Radio License
As noted above, the International Radio Regulations require that a maritime radio station is controlled by a certified and licensed operator. The RYA offers the Marine Radio Short Range Certificate for operation of a VHF DSC Marine Radio.
3. Passports
The skipper and all crew should carry their individual passports. Make sure everyone has the correct visas for the countries you are visiting and the time period is adequate on for the length of stay in each country.
It is important to research and plan ahead when sailing abroad to meet all paperwork requirements for each country that you are visiting.