Develop advanced skippering techniques – learn how to undertake coastal passages by day and night.
Like the RYA Day Skipper course, this training consists of skippered passages in a variety of situations. The RYA Coastal Skipper is designed to suit yachtsmen and women with considerable knowledge of sailing and navigation.
Bluewater Sailing's highly experienced RYA Instructors will guide you through more challenging passages in the breath-taking islands of Grenada and the Grenadines. Detailed passage planning, pilotage by day and night, boat handling, safety and emergency situations are all included in the RYA tuition. We recommend taking a 7 day/6 night course to maximise your experience.
---
RYA Coastal Skipper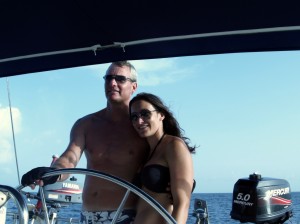 The RYA Coastal Skipper course is an intensive week – but highly satisfying. Trainees often are working towards a Certificate of Competence or the International Certificate of Competence.
Grenada Bluewater Sailing expects you to have completed the RYA Coastal Skipper/Yachtmaster Offshore Theory course before starting this practical maritime training. This will ensure you are fully prepared.
RYA Coastal Skippers will be able to undertake more difficult passages by day and night and handle the yacht in more demanding conditions. By the end of this sailing course you should have the knowledge to become an RYA Yachtmaster. However, you may still need to gain more boating experience – Grenada Bluewater Sailing offers Mile Building Sailing Charters in conjunction with the best Caribbean Regattas.
Grenada and the Grenadines is classed as tidal water and your certificate will be endorsed accordingly. Book Today to become an RYA Coastal Skipper!
---
RYA Coastal Skipper Course Information:
Pre-course experience
15 days, 2 days as skipper, 300 miles, 8 night hours.
Assumed knowledge
Boat handling to the standard of Day Skipper and navigation to Coastal.
Minimum duration
5 days.
Minimum age
17
Course content
Passage planning
Preparation for sea
Pilotage
Passage making and ability as skipper
Yacht handling under power
Yacht handling under sail
Adverse weather conditions
Emergency situations.
Ability after the course
Able to skipper a yacht on coastal passages by day and night.
Useful Resources from the RYA:
Buy RYA Sail Cruising and Yachtmaster Scheme – Syllabus and Logbook at the RYA Shop
Buy RYA Introduction to Boat Handling for Sail and Power at the RYA Shop