How do I get to Grenada?
Please see our How to Get to Grenada page by clicking here.
Passports and Visas
All persons traveling should be in possession of a valid passport. Passports should be valid for at least 6 months after the return date. No visas are required by British passport holders for any of our Caribbean destinations. SPECIAL NOTE TO ALL NON-EU CITIZENS: Please check current entry requirements for your nation of citizenship. Click here to check Grenada's visa requirements.
---
Do I Need Insurance?
Yes. Please check that your personal travel insurance covers you for the sailing holiday/course that you have booked. TopSail Insurance is underwritten by Lloyd's of London, they provide you with peace of mind and security when you need it most. Includes offshore sailing, working at sea, racing and event fees. Annual policies include non-marine related trips abroad as well.
---
What should I bring with me?
If you are booked on an RYA training course then you will be advised to bring two (2) passport photos of a standard size with you.
Sailing Trip Essentials
Multi-purpose quick dry clothing that can be easily rinsed. Our learn to sail vacations are leisurely and rarely require anything more than casual attire for sailing and shore-based activities. Shorts and t-shirts are the normal style on board.
Less luggage equals less burden and clutter in you cabin. Soft duffel type luggage eases storage aboard both the yacht and the airplane. Please note that all your luggage will be stowed in your cabin, so hard luggage will be a decidedly uncomfortable addition.
Many students choose to go barefoot on board. However, if you prefer to wear shoes please use non-skid rubber-soled shoes (no high heels or black soled shoes!). Flip-flops or sandals are the standard on shore.
Sun screen products – factor 30 or above is recommended.
Insect repellent for mosquitos is a must when going ashore in the evenings.
Wide brimmed hat/cap or bandana.
Sunglasses – polarised lenses are great for cutting down glare when sailing.
Pack an adequate supply of all prescription medication. If you prone to seasickness, bring the medication that is appropriate for you and take it prior to setting off.
Several swimming suits – you'll be in the water to cool down multiple times each day!
Basic toiletries and towel (quick dry microfibre towels are a great idea).
Personal incidentals.
We provide lifejackets/harnesses and wet weather jackets on board. However, if you have your own set then please feel free to bring them.
Eastern Caribbean or US dollars to pay for meals ashore, customs clearance, marine park fees, and any shore based activities you may want to do.
Helpful Sailing Trip Accessories
Sailing gloves.
An underwater camera for capturing the amazing marine life and scenery!
Entertainment – music on CDs or an mp3 player. Books or magazines are good for those chill out moments.
When the generator runs for 2 hours in the morning, we have 110 AC charging for laptops and cameras. You are welcome to bring a 12V car charger for your phone. USB charging is also best done when the generator is running. There is limited wifi throughout the islands so consider your sailing trip a digital detox!
If you have favourite snacks or alcohol that would like to bring on your sailing trip then ask your taxi to stop at the IGA supermarket in Spiceland Mall on the way to the Yacht Club.
Mask, snorkel and fins – we provide a variety of sizes on board, however, you may be more comfortable in your own set when snorkelling or diving.
If you are musical then feel free to bring your instruments for impromptu evening jam sessions.
---
What is included on RYA Sailing Charters?
Full crew and tuition (as booked).
All bedding is provided (not towels).
Please see the Cuisine page for meal options – soft drinks are included.
Chao Lay complies with all RYA and MCA safety requirements and equipment – includes lifejackets and harnesses on board.
Waterproof jackets are available if needed.
Snorkeling equipment – mask, snorkels and fins.
Water and diesel used.
Transportation between the airport and the marina is NOT included in your fee unless otherwise specified.
Flights are NOT included, however, we can assist you with any questions or information about flights to Grenada.
Meals in restaurants are NOT included.
Customs clearance between countries (e.g. Grenada & SVG) is NOT included.
---
What Time & Where Do We Meet?
Our yacht, Chao Lay, is berthed at Grenada Yacht Club in St. George's. You will receive personal instructions on where to meet the yacht when booking. We can arrange a transfer from the airport for you if required.
If you are joining us from another island then we will email you with specific details of our collection points.
Course/charter start time is 08:30am on the first day of your booking. On the last day, we are normally back at the dock around 16:00pm.
You are welcome to join the yacht on the evening prior to your booking start date.
Shore based theory courses are conducted at: Bay Views Searles, Freedom Street, Mount Moritz, St. George's. If you need further directions or travel assistance please ask.
---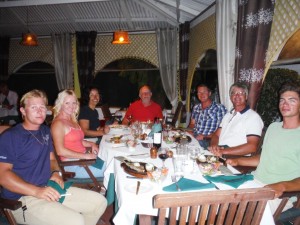 What Is The Average Price of…
A bottle of beer is approximately XCD5
A rum and coke is approximately XCD8
A glass of house wine is approximately XCD20
A 5 litre bottle of water is approximately XCD10
A carton of UHT milk is approximately XCD5
A main course meal ranges between XCD25-80
A pizza is approximately XCD40