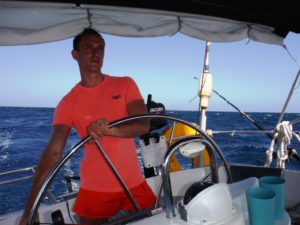 Experience & Explore…
Sail on the warm Caribbean sea and explore the tropical islands of Grenada and the Grenadines with Grenada's premium RYA Sail Training Centre – Grenada Bluewater Sailing.
Our beautifully kept 46′ Beneteau Oceanis has three double ensuite cabins which sleep up to six people. Perfect for families, couples or groups of friends. You can choose whether you would like to learn to sail with our RYA instructor, or simply enjoy the sailing charter whist exploring the Grenadines. Your skipper/instructor will sail you to deserted tropical islands (the famous Tobago Cays!), stunning white sand beaches and show you all the best places for food and entertainment in the evenings.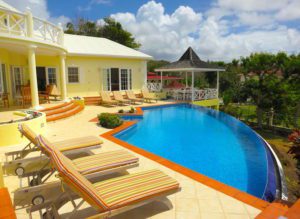 Relax & Unwind…
After your island hopping adventure, relax and unwind at your own private villa in Grenada's most desirable location – Nutmeg Bay in L'ance aux Epines.
Nutmeg Bay Villa has five bedrooms (three kings and two twins) in the main house, all with splendid ensuite bathrooms, sleeping up to 10 people in absolute comfort. In addition, an adjacent, self-contained cottage provides a sixth bedroom, if required. Togther with a kitchen, lounge, indoor/outdoor entertaining space as well as an infinity pool – this is great place to unwind. All five of the ensuite bedrooms lead out to the seating area and pool deck, offering a fabulous view over the gardens and on to the lagoon. There is an enormous amount to occupy your time on Grenada, other than the pleasure of using the beautiful beaches and swimming in the azure-blue sea.
Or… Buddies Only Sail & Stay Vacation in Grenada!
Are you and your buddies dying to get out sailing, but your partners are more interested in chilling out on shore? We have the answer! Book your loved ones in at our beautiful villa to enjoy shore-based relaxation and the delights of Grenada. You and your buddies will then head off in style on our 46′ yacht for RYA training, mile building or some jolly good Caribbean sailing.
Sail & Stay Vacation in Grenada Options
Option 1: 14 days – 7 days/6 nights Sailing Charter with 7 days/6 nights Villa Vacation
Option 2: 12 days – 5 days/4 nights Sailing Charter with 7 days/6 nights Villa Vacation (or vice versa)
Option 3: 10 days – 5 days/4 nights Sailing Charter with 5 days/4 nights Villa Vacation
Option 4: 14, 12, 10, 7 or 5 days – Buddies stay on the yacht and better halves stay in the villa!
Contact us today so we can tailor your Sail & Stay Vacation in Grenada!
Nutmeg Bay Villa Gallery
Sailing Charter Yacht Chao Lay Gallery