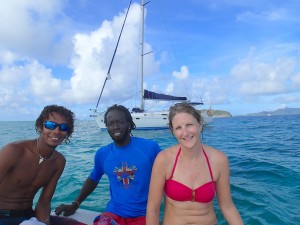 Our SGU student learn to sail courses are a great way to get out on the water and learn to sail a yacht. Grenada is well-known for its delightful sailing and the Royal Yachting Association (RYA) is one of the top internationally recognized training agencies for sailing. Blow those study cobwebs out  of your hair with the warm sea breeze!
Have a weekend free from study? We offer group SGU student learn to sail courses over 2 days for groups of 4 or more. If you have 5 or 7 days then why not invite your SGU friends on the trip of a lifetime? Sail around the stunning Grenadines with our instructor, learning to sail, experiencing the island culture and food.
Chao Lay is the beautiful 46 foot sailing yacht that we train on. Immaculately kept, she is very spacious on board and a solid bluewater cruiser. Chao Lay is perfect as a training vessel and very comfortable to sail. She is fully equipped with all of the safety equipment required, annually inspected by the RYA and exceeds the standards set by the RYA and MCA.
SGU Student Learn to Sail Courses – Options
2 Day – RYA Start Yachting Course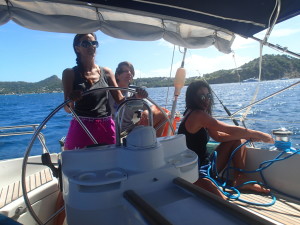 On the 2 day Start Yachting course, you will experience steering a yacht, sail handling, rope work and become aware of safety on board. Stop for lunch in one of Grenada's secluded bays and jump in for a snorkel or swim to freshen up.
Additionally, holders of the RYA Start Yachting certificate can go on to complete the RYA Competent Crew course in a reduced time of three days.
Time: 08:30am-17:00pm each day
Included: RYA certificate, lunch, snacks & soft drinks
Minimum: 4 people
SGU Special Price 25% off: USD 360.00 per person
5 or 7 Day – RYA Competent Crew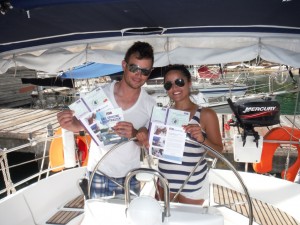 Experience living on board and really get to know the boat. The RYA Competent Crew course is hands on and action packed! You are the crew and without you the sails won't go up and the boat won't be steered around the beautiful Grenadine islands. By the end of the RYA Competent Crew course you should be able to steer, handle sails, keep a lookout, row a dinghy and assist in the day to day duties on board.
Time: Starts at 08:30am on the 1st day and finishes by 16:00pm on the final day
Included: Accommodation on Chao Lay, tuition, mooring fees, water and diesel used. We also include all breakfasts, lunches, snacks, non-alcoholic drinks, and three evening meals onboard. There is free use of our snorkelling equipment and we fish en route. Waterproofs are provided just in case of showers.
Not Included: Transfers, customs clearance between islands (approx. USD 30 per person), and meals/drinks ashore. There is also a small donation of USD 4 per person for entering the Tobago Cays Marine Park. Alcoholic drinks are not included, but you are welcome to bring your own.
Minimum: 3 people
SGU Special Price: Contact us today!