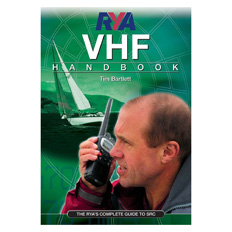 It is essential for all boaters to have a method of calling for help in the event of an emergency at sea. Many boaters believe a mobile phone is adequate; although it may work, mobile coverage at sea is limited. Plus, it is not designed for use in a marine environment, and may let you down when you need it most. VHF radio is a specifically designed means of marine communication, and an essential piece of onboard equipment.
VHF Marine Radio
A fixed VHF on your sailing vessel will allow you to communicate at a maximum range of 20-40 miles, depending on conditions. Alongside this, VHF allows search and rescue teams to locate your position using Radio Direction Finding (RDF) equipment.
A handheld VHF radio is also practical, but will only transmit over a limited range.
Antenna Installation
The antenna must be installed correctly as per the manufacture's instructions. It must be placed as high as possible on the sailing vessel. This is normally on top of the mast; although, this does mean that in the event of a dismasting you lose your communications.
It is always prudent to carry a replacement emergency antenna. Then, if you lose it, it can be installed quickly to reinstate communications.
VHF Communication
VHF is also useful for receiving information, such as weather updates and navigational warnings. Maritime Safety Information is broadcast by the Coastguard every three hours and useful to listen to. Also, some ports or harbors require you to monitor port operation frequencies or VTS frequencies.
Make sure your VHF marine radio can be heard clearly in the cockpit by installing a loudspeaker on deck. Another idea is to keep a waterproof handheld VHF on your person in addition to your fixed VHF; helpful in the event of a capsize, sinking or man overboard too.
What are Sea Areas?
There are categories for different sea areas in the world. The UK has been categorized as Sea Area A1; that means VHF radio is adequate for boating around the coastline, as there is coast guard station coverage.
It is recommended for vessels sailing outside Sea Area A1 to carry satellite communications or long range equipment. The rest of the world's oceans are classified as Sea Areas A2 – A4.
Merchant Shipping Regulations state that owners of UK pleasure craft of 13.7m in length and over, that go to sea, should be aware that communications equipment is mandatory.
Global Maritime Distress and Safety System
The International Maritime Organisation (IMO) fully implemented the Global Maritime Distress and Safety System (GMDSS) on 1st February 1999. Based on a system using satellite and terrestrial radio communications, a vessel can call for help anywhere in the world. It will alert search and rescue authorities and other vessels in the vicinity.
Unlike VHF marine radio, GMDSS is only mandatory for passenger vessels on international voyages and for vessels over 300GT.
The GMDSS has a number of elements that make it into a global distress and communications system. As well as Digital Selective Calling (DSC), it integrates Navtex, satellite communications and EPIRBs.
Digital Selective Calling
Digital Selective Calling (DSC) enhances a distress alert sent through various communications including VHF marine radio. A VHF DSC radio allows you to transmit a distress message within seconds, including what type of distress you are in. It will also automatically include your GPS position if connected to GPS. If another station is within range, they will hear a loud alert without you transmitting a voice message.
Once your DSC message is acknowledged, the acknowledging station will automatically be ready to receive your Mayday audio message including MMSI number and position. It does not replace an Mayday message; although, if a following Mayday message is impossible, they will at least have been alerted to your request for assistance.
Channel 16
Since 2005, the UK Coastguard stopped the dedicated watch on Channel 16; they will only be maintaining a "loudspeaker watch". MCA guidance is that vessels fitted with VHF marine radio should maintain a listening watch on CH16 where practicable.
In other regions, the coastguard may monitor Channel 16.
We offer the RYA VHF Marine Radio course at Grenada Bluewater Sailing. Find out more by clicking here.