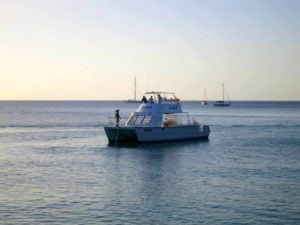 Our two day course covers basic boat handling, engine checks and safety on board with your crew.  We tailor our courses to suit your business requirements and offer private RYA Helmsman's course on board your vessel.
The Helmsman's course is ideal for new crew members and employees who are conscious of the difficulty and hazards of boat handling. During the two days, the crew learns the essentials of running a motor boat. They will learn to identify parts and equipment, customer and personal safety, deck work, anchoring and steering the boat adequately. We spend our time in the bays and marinas around the Grenadian coastline where you are most likely to operate. There is no previous experience required for this course and any crew member can join in.
Helmsman's Course Syllabus
Course Aim: To teach boat handling & safety within a defined area.
Theory Sessions
Types of craft:
Sportsboat, motor cruisers planing/displacement
Types of hull, seakeeping, wash and considerations
Engines and drives:
Advantages and disadvantages
Petrol / diesel
Single / twin screw
Shafts / outdrives, outboard, waterjets
Engine operation and maintenance:
Pre-start checks inboard / outboards
Engine checks while running
Routine maintenance checks
Fuel consumption range, reserve, and location of fuel cut-offs
Basic fault diagnosis
Safety and seamanship:
Personal safety equipment – lifejackets, buoyancy aids, flares, first aid kit
Anchoring – types, stowage, depth of water, preparation, check holding, weighing
Rule of the road:
Has a working knowledge of the International Regulations for Preventing Collisions at Sea.
Practical Sessions
Boat preparation:
Local boating conditions and regulations
Preparation of boat, lines, fenders
Safety equipment, lifejackets, dangers, number in boat
CE marks, loading, effect on handling and performance
Use of kill cords If trailer – number of people for launching / recovery, slipway condition, steep / slippery, wind
Can tie & knows use of: bowline, round turn & two half hitches, clove hitch, single & double sheetbend
Boat handling:
Steering, controls, windage
Starting and stopping
Low speed, steering a straight course
Turning in a confined area
Effect of wind on bow
High speed / full power, planning, trim tabs and power trim
S turns, U turns, stopping from speed
Displacement craft: handling ahead and astern
Carrying way
Securing to a buoy:
Preparation of mooring warp and boat hook
Method of approach in various conditions
Crew communication
Making fast
Alongside:
Preparation and use of lines, springs, fenders, attachment to boat, stowage underway, securing to cleats
Method of approach in various wind and tide conditions
Making fast – importance of 'taking a turn'
Use of springs to leave a berth
Man overboard:
Immediate reaction Proper observation of man overboard
Correct return
Awareness of propellers
Final approach and recovery of man overboard
| | |
| --- | --- |
| Pre-course experience | None |
| Assumed knowledge | None – RYA Essential Navigation & Seamanship is recommended |
| Minimum duration | 2 days |
| Minimum age | 12 |
| Course content | Boat preparation, boat handling, types of craft, engines and drives, engine operation and maintenance, safety and seamanship, rules of the road, securing to a buoy, berthing alongside, man overboard recovery. |
| Ability after the course | Competent to a handle motor cruiser of a specific type in sheltered waters. RYA Certified. |