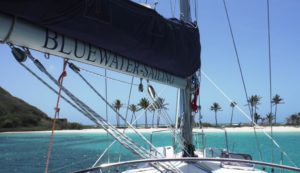 I often get asked what sets Grenada apart from other locations where you can learn to sail in the Caribbean. Where do I start to share all the magical reasons why we love being based in Grenada and sailing around the Grenadines?!
When Alex founded Grenada Bluewater Sailing he knew he had found the perfect location for a sailing school in the Caribbean for these 5 good reasons…
Learn To Sail in Grenada – You Will Love It!
1 – Diversity of Islands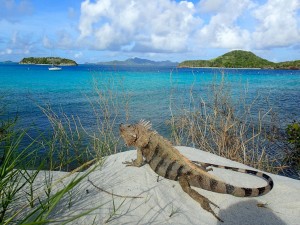 Being based in Grenada makes booking flights simple for our students from the US, UK, Canada, Europe and South America. There are many direct international flights from these countries.
Another bonus is that we have over 40 islands to explore by sailing boat within this region. From tiny deserted tropical islands (perfect for a picnic lunch stop), to larger islands with calm overnight anchorages and nice restaurants, you will be fascinated by the traditional cultures and beautiful scenery.
These islands are perfect for either short or long passages depending on your course requirements or personal preferences.
2 – RYA Learn To Sail Courses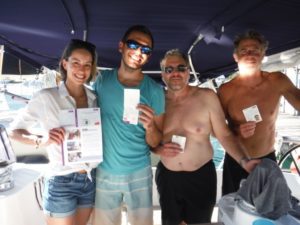 The highest standards are offered by Grenada Bluewater Sailing. Everything you need to begin or continue your sailing tuition is here, whether you would like to be a recreational boater or a sailing industry professional.
RYA training is forward thinking and designed for whatever level of skill, professionalism and knowledge you want to achieve. The Royal Yachting Association has been established for over 130 years, but their training approach is fresh and innovative. RYA courses are continually developed to take into account the dynamic world of boating and our instructors offer personalized tuition to ensure you become a confident, safe and competent skipper.

We have set a maximum of four students per course, guaranteeing quality training and plenty of time for each person to practice. From novice through to professional, everyone is welcome – families, couples, singles or groups of friends.
3 – Delicious Food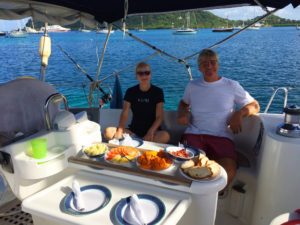 We offer high quality cuisine using fresh, local ingredients on board. We save you time and stress spent provisioning by providing a fully stocked yacht. Our instructors are excellent cooks and go that extra mile to provide great food on board – student feedback is always very complimentary!

Chao Lay has a spacious deck dining area which is frequently used for al fresco dining. Students can relax and enjoy the stunning views of tropical paradise, while experiencing the fresh flavours and cuisine of the Grenadines. The comfortable dining area below also provides a perfect atmosphere for sharing the days sailing stories over a
hearty meal.
4 – Perfect Weather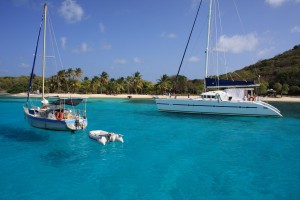 Grenada is known as a year-round sailing destination with average air temperatures between 25-32 Celsius. There is supposed to be distinct wet and dry seasons, but we find the average day to be hot sunshine with breezes ranging from 15-25 knots. We do have the occasional overcast day with passing squalls (sometimes a relief from the heat), but the rain showers never last too long and you soon dry off in the tropical heat that follows!
Inter-island sailing is exciting with Atlantic sea conditions, while the coastal cruising is good for boat handling and maneuver practice in flatter water.
We operate 365 days of the year!
5 – Impeccable Sailing Yacht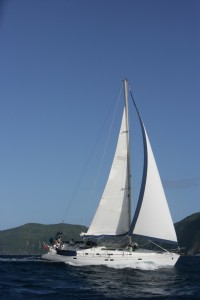 An extremely well-kept Beneteau Oceanis 461, Chao Lay is the perfect boat to learn to sail on with our RYA sailing school. Chao Lay is Thai for "Sea Gypsy" and she lives up to her name as a solid bluewater cruiser with spacious, modern amenities. She also has the power and speed under sail to successfully race in many Caribbean regattas.
She offers an ideal base for an RYA learn to sail holiday, as she has a bright well-ventilated interior and spacious layout. The three cabin accommodation on board is very comfortable, with each double berth having private ensuite toilet and shower. Chao Lay is suitable for either three singles, two couples, or for a family.
We do not have a large fleet of vessels (just Chao Lay) and she is treated like our home. As soon as you step on board you will notice the homely and welcoming vibe. As our only training yacht she is equipped perfectly for courses and maintained to the very highest safety standards.
So you can see why we love sailing and living in Grenada! From the diverse island cultures, to the scrumptious food and year-round good weather conditions… what is not to like!